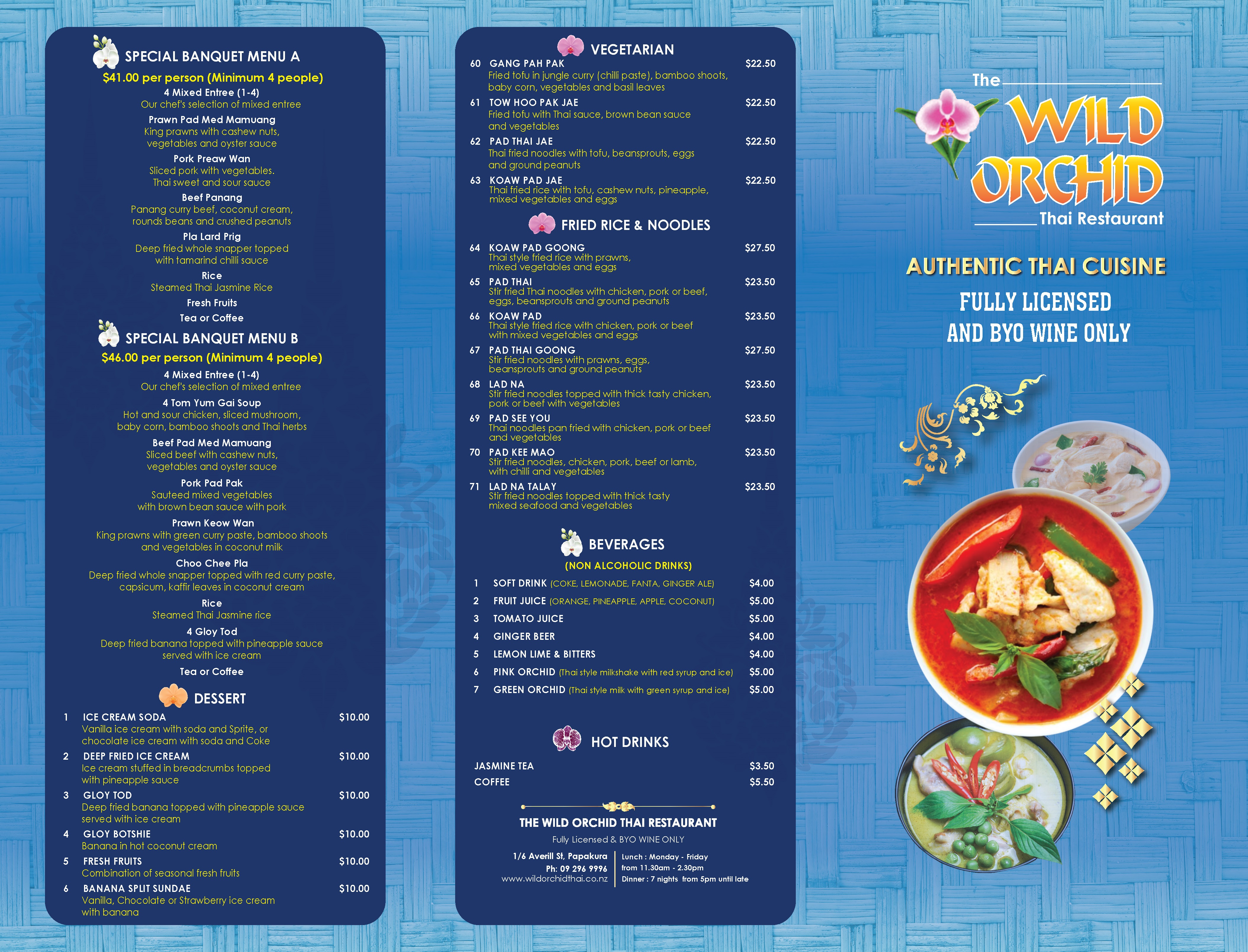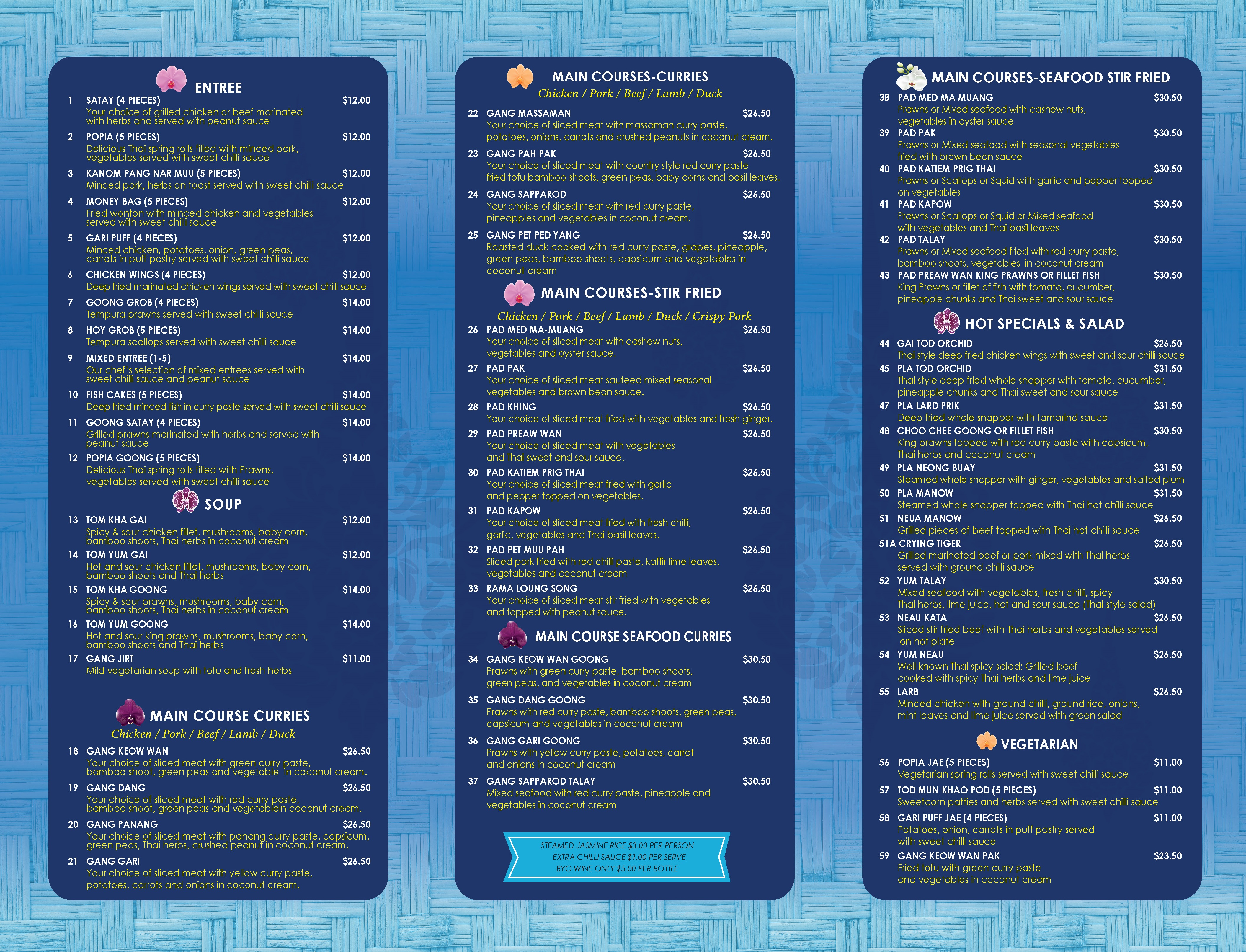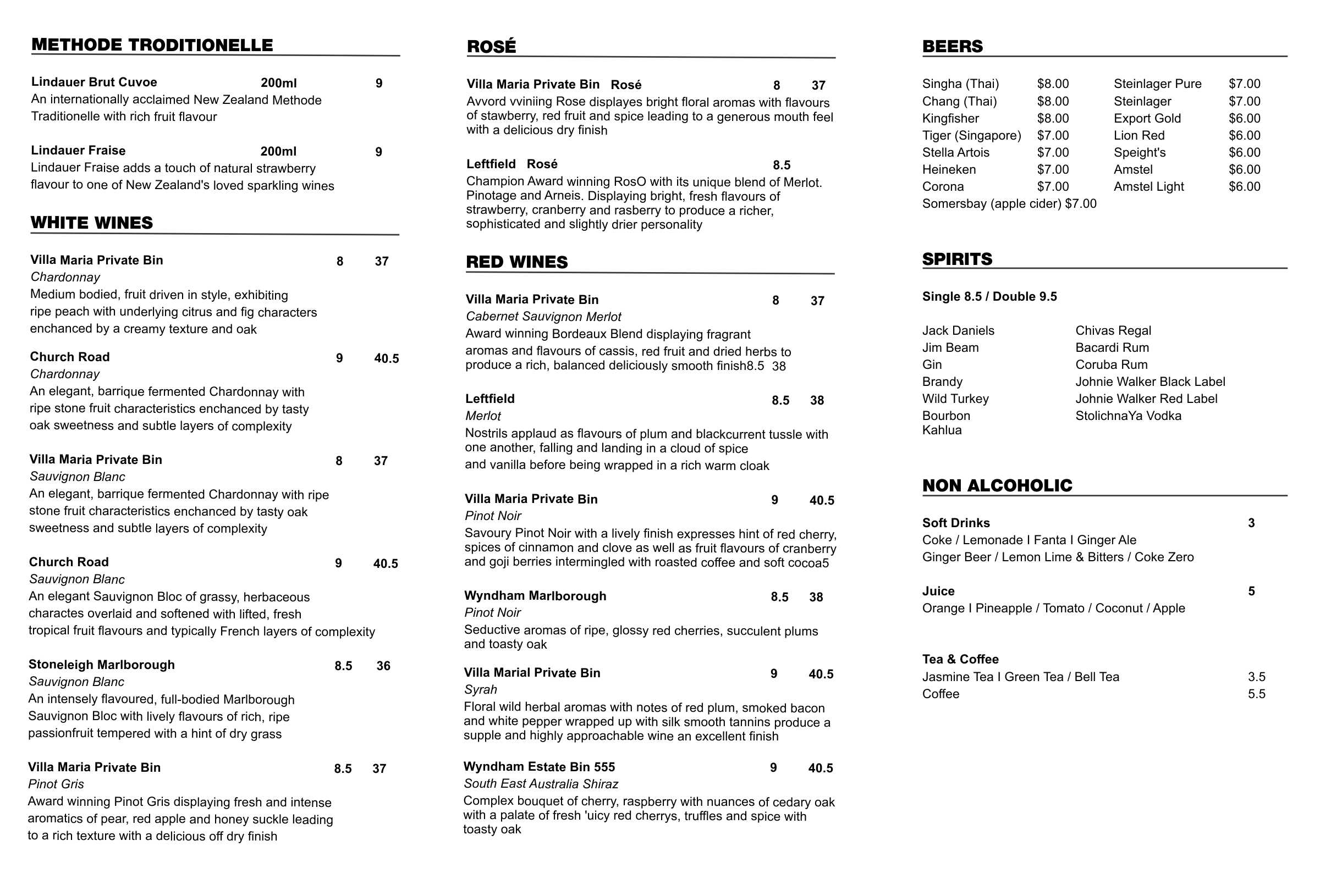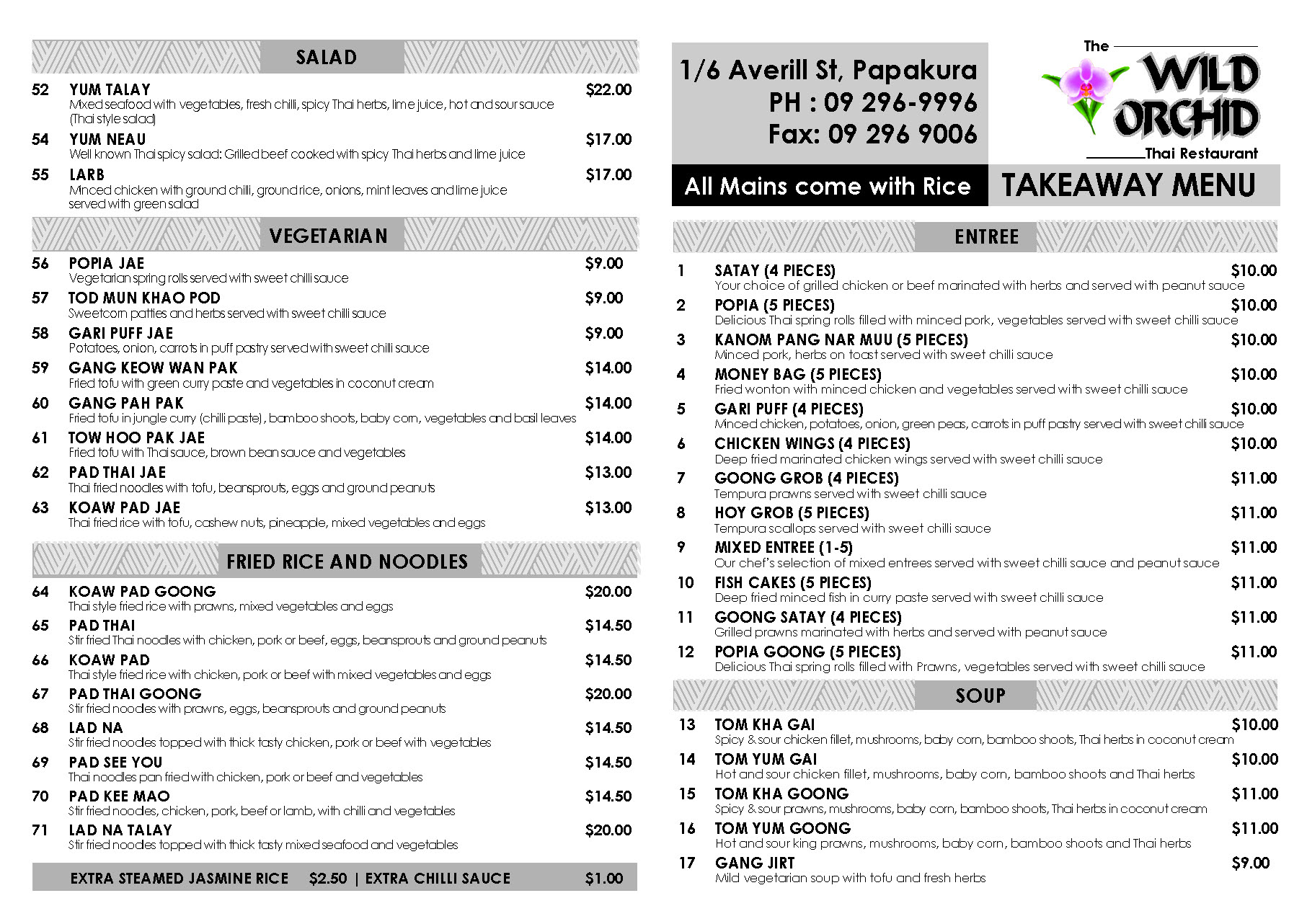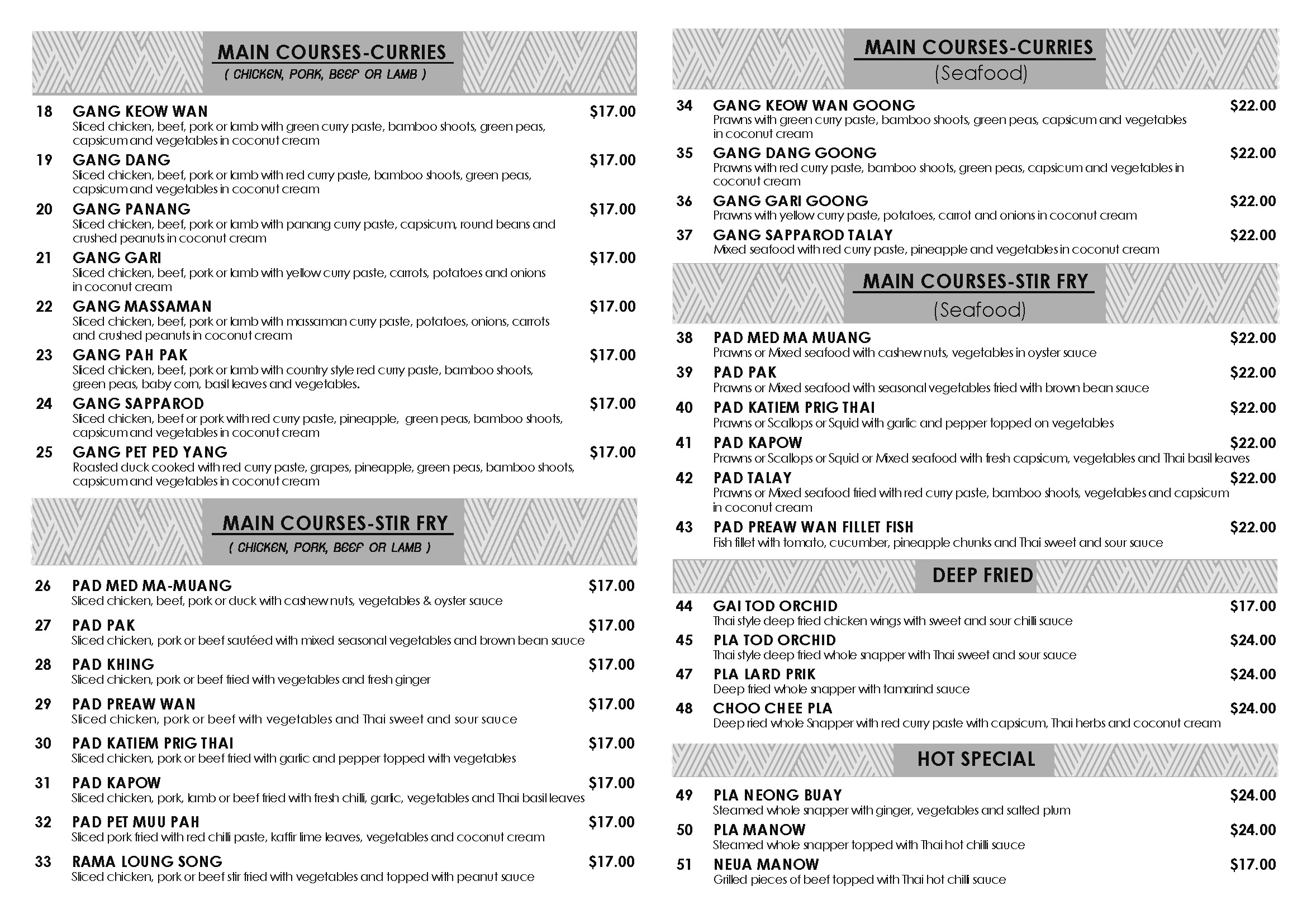 Visit us today to try our delicious foods.
Opening Hours:
LUNCH Monday – Friday 11.30am – 2.30pm  
DINNER (7 nights) 5-10pm *kitchen closed at 9.30pm
Wild Orchid Thai Restaurant
6 Averill St, Papakura, 2110
PH: 09-296 9996
Email : thewildorchid@icloud.com

Anne M.
We have been to Thailand 20 Times and this little Mum and Dad run restaurant offers the best food outside Thailand. Outstanding freshly cooked dishes and great service, this little gem is well worth a visit.
Patrice K.
Great food and friendly and efficient service. We have eaten here many times and taken guests along on several occasions also. I would recommended to all who like Thai food. This restaurant is a family favourite and is great value for money.
dandn
Fantastic food great flavours really authentic, we had takeaways but will have to dine in next time. 
Jess
I love their food we try and get this at least once a fortnight. The staff remember you, and they are just very good all round. Delicious meals
Paul
"Definitely recommending this restaurant to everybody. Good friendly service, fantastic food, b.y.o wine too. Something different, good place to take a first date if you're trying to impress them! The sizzle platters were yummy!…"
lilbuena
Tried Wild Orchid again today for lunch. Oh, we were in heaven, and the gentlemans beautiful smile, is contagious. As per a review above, we too have been to Thailand 7-11 times, so we do know GOOD Thai food when we taste it. AAAA11111111+++++
Nibbs
Sawatdee Kaa…..We regularly go to Wild Orchid and meet friends there for dinner. All of us have travelled to Thailand on numerous occasions so love Thai food. This restaurant has to be one of the best around for its fresh food, flavour and price. The Gang Sapparod & Garlic Squid are particularly great, in fact its all great! The staff are always lovely and obliging and always have that Thai smile. Thoroughly recommended….. Ah Roy Mak Mak……
lilbuena
We have been here twice now. The first time was several years ago. As we were in Papakura one lunch time last week, we decided to try it again. It was absolutely fabulous. The food was extremely fresh, and flavoursome. A lovely older gentleman served us. He has such a smiley face. Sadly we don't go to Papakura often, but it's a real gem, for locals.